[EN] Second edition of 'Squatting in Europe' published
The second edition of Squatting in Europe: Radical Spaces, Urban Struggles has just been published. As before, the pdf is available and individual chapters are now being uploaded to the website, links below.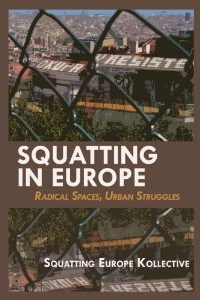 Squatting in Europe: Radical Spaces, Urban Struggles
Published on Minor Compositions.
Squatting in Europe aims to move beyond the conventional understandings of squatting, investigating its history in Europe over the past four decades. Historical comparisons and analysis blend together in these inquiries into squatting in the Netherlands, Italy, Spain, France, Germany and England. In it members of SqEK (Squatting Europe Kollective) explore the diverse, radical, and often controversial nature of squatting as a form of militant research and self-managed knowledge production.
Contents:
Margit Mayer: Preface
Introduction
Hans Pruijt: Squatting in Europe
Pierpaolo Mudu: Resisting and challenging Neoliberalism: the development of Italian Social
Centres
Gianni Piazza: How activists make decisions within Social Centres? A comparative study in an Italian city
Miguel A. Martínez: The Squatters' Movement in Spain: A Local and Global Cycle of Urban Protests
Claudio Cattaneo: Urban squatting, rural squatting and the ecological-economic perspective
Andre Holm, Armin Kuhn: Squatting and Urban Renewal: The Interaction of Squatter Movements and Strategies of Urban Restructuring in Berlin
Florence Bouillon: What's a 'good' squatter? Categorization's processes of squats by government officials in France
Thomas Aguilera: Configurations of Squats in Paris and the Ile-de-France Region: diversity of goals and resources
E.T.C. Dee: Moving towards criminalisation and then what? Examining dominant discourses on squatting in England
Available from Minor Compositions direct and all good radical bookshops.